38
Aug 23, 2011
In this article I'll be reviewing the Zotac ZBOX ID41, which is an inexpensive mini PC from Zotac. The thing about this PC is that it's particularly appealing to media center owners and budget-constrained customers due to its price and small size.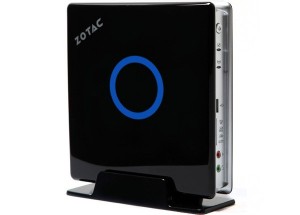 In this review I'll look at some of the factors that are important to me for a HTPC: noise, HD playback, expansion features and power usage.
What's a HTPC/Media Center PC?
Basically, when you plug a PC into your flat-screen TV like the one in your living room, and run a software like XBMC, your PC turns into a HTPC (Home Theater PC).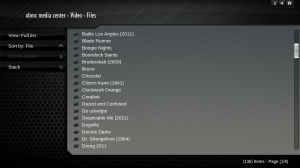 A typical XBMC movie library, as it would be shown on your flatscreen TV
With software like XBMC, you can lean back and use the remote you connected to your PC to scroll through your movie, music and picture collection and view it all on your big screen. Who wants to watch movies on a laptop screen, right?
Why a Zotac?
The low price of the ZBOX was the main reason I bought it. Currently, there are many competing mini-PCs on the market with different features in different price brackets. I chose the bare-bone version, without the memory and harddrive, because I had some leftover parts from when I upgraded a MacBook Pro. Great way to save a little money.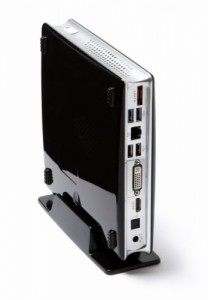 Rear view of the Zotac in upright position.
There's several versions of the ZBOX available, some with AMD processors and others with both faster and slower Intel processors. The ID-41 is one of the fastest models, but is more noisy and consumes more power than the AMD solutions, from what I've gathered on the Internet. I sacrificed some quietness for performance.
In the box
The Zotac comes in a fun briefcase-like box and includes both a vertical stand and an attachment so you can mount it on the back of your flat-screen TV. You also get a DVI to VGA adapter (in case your TV doesn't support HDMI). Besides that, there's not a lot of stuff.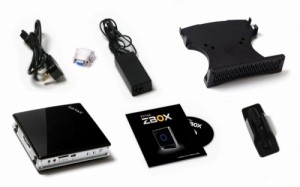 Installation
I installed 4 GB ram, a 1 TB HDD and Windows 7 64bit. I downloaded the Nvidia drivers off nvidia.com, the rest of the drivers from zotacusa.com. I also upgraded the BIOS for good measure. Even though the ZBOX comes with a manual, it fails to tell you how to enter the BIOS, so here you go:
BIOS: cold boot (don't restart), press DEL repeatedly.
Boot Device: cold boot, press F11 repeatedly.
Thoughts on Linux as HTPC OS
Ubuntu and other Linux distributions can do the things I want, but I had a spare Windows license, so I decided to use it. If I didn't have a Windows license lying around, I probably would have installed Ubuntu and be happy with that, as most home entertainment software will work on both operating systems. I might try Ubuntu in the future, but Windows 7 works fine. I could also have used the XBMC live CD and installed that permanently, so don't think you need an expensive Windows license.
Does It Play 1080p?
While traditionally it has always been difficult to play 1080p (full HD) videos on cheap mini-computers, that changed with the Nvidia ION chipset which facilitates hardware playback of many common media codecs. With it, the CPU can take a break — in many cases, CPUs like Atoms just aren't fast enough to play HD videos.
I installed XBMC 10.1 from the official site and it ran well on the machine with all the latest updated drivers and Windows updates. The XBMC user interface seems to suffer from low fps (frames/second) but it runs well enough that it doesn't bother me.
After you've enabled DXVA hardware acceleration in XBMC's settings panel, the Zotac ZBOX ID41 really plays 1080p MKVs flawlessly in XBMC; no artefacts, tearing or skipping, even with subtitles. (Thanks, ION 2!) If you don't enable DXVA, your media will skip, since hardware acceleration won't be enabled.
At the time of writing, if you want to play 1080p MKVs in Media Player Classic Home Cinema, you have to get the CoreAVC codec, which costs $12. I tried to get libavcodec to play without skipping, but no success, which is weird since that's what XBMC uses. I didn't try a lot though – I'm always going to be using XBMC on this computer.
Forget about VLC Player. It doesn't support hardware acceleration as far as I know.
General performance


The "Experience Index" for the Zotac ID-41. As you can see, the processor is clearly the bottleneck here. (Click for larger version) 
The speed of the machine feels OK considering the dual-core 1.6Ghz Atom processor. It struggles playing 1080p videos from YouTube with Flash 10.3. Some videos play smoothly, others don't. As the Web moves away from the old Flash-standard, more and more high definition video will properly work on this hardware.
This machine would do well for internet surfing and office tasks like Word and Excel, but expect to have some patience launching heavy programs, especially those needing lots of CPU cycles.
This definitely isn't a gaming computer, but I installed Steam and Counter-Strike 1.6 on it anyway, but it barely manages to get 60fps on that old game. So that says a bit about the gaming performance (pretty bad).
Noise level
The noise level of the computer is very good: the fan can be heard a tiny bit when playing 1080p files or doing CPU intensive tasks, but when it's idle, it's almost completely quiet. Not as quiet as my MacBook Pro, but it's enough for me. The fan isn't high-pitched, more of a low hum, and that's a big plus.
I might drill some more holes in the cabinet to improve airflow (taking the cabinet off reduces the fan speed a bit), or mod it with a quieter fan some day to make it even more quiet.
Also note that the factory BIOS will run the fans at a higher speed than the new version from zotacusa.com.
Power Consumption
The energy usage of the ZBOX ID41 is relatively low, measured at about 26W idle with a consumer electricity gadget. While playing a 1080p movie, it consumed about 28W. Playing a 1080p movie and extracting zip files simultaneously made it go up to 31W.
When it's powered off, it consumes 2W, which seems a little strange, but it's probably due to the LED that's on when the device is off. Why is there a LED that shines when the computer is off, Zotac?
So, when you turn your ZBOX off, you will have to turn the power off too (if you care about saving power).
Design

The Front. Not shown: an extra USB input at the top.
The ZBOX has a lot of expansion ports. eSATA for storage, DVI and HDMI for displays, Gbit LAN, 2x USB 3.0, 5x USB 2.0, SD card reader plus sound and optical outputs, so lots of room for expansion, compared to an AppleTV for example. One thing I missed was a FireWire jack for an external sound card.

You'll have some difficulty mounting a 11mm 2.5″ HDD, like the WD Blue. It's simply too tall, so I had to remove some foamy padding on the harddrive bracket so it would fit. By now there's lots of normal sized 1TB HDDs out there, so it shouldn't really be a problem.
I think the design is OK. You can hide it behind your TV with the included screw-on frame. The machine itself doesn't feel robust when handling it, probably because it's made from plastic.
I've turned off the blue round LED light on the case in the BIOS (thanks for giving me this option, Zotac) because it was too bright and annoying.  But I couldn't disable the HDD activity indicators, and had to stick electrical tape on to hide them.
Conclusion
If you need a dirt cheap, somewhat quiet media center pc, get the Zotac Zbox ID41! If you don't play games on your computer, and only surf the web, do office work and things like that, you'll probably also enjoy this machine.
If you're really noise sensitive, you're probably better off getting a fanless HTPC, but those are a little more expensive.
All in all, I'm happy I got a Zotac.